CORFU

CORFU

GEOGRAPHY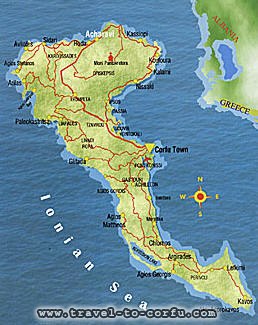 Corfu is the most northernmost and second largest after Cephalonia of the Ionian islands. Its area covers 592 square kilometers and the length of the island is 217 kilometers. It is mountainous with the highest mountain being Mt. Pantokrator (914 meters) but there are several flat areas ,the largest being the Ropa valley.

There are two lakes , Korission and Antinioti, and four small rivers often dry in Summer at Potamos, Sidari, Messogghi and Lefkimi. The climate is mild without being bitterly cold in Winter and the Summers are humid. The heavy rainfall and the high humidity encourage the profuse growth of vegetation.

Therefore the island has a lot of greenery, even in Summer. It is the most densely populated area in Greece after thew great urban centers of Athens and Thessalonika. According to the latest census figures, the population of the island is 105.000 with 35.000 people living in the town.

The economy of Corfu depends mainly on the tourist industry but there are also related industries and services that depend on tourism. Agricultural production is not large. The chief products are olive oil, wine, vegetables and the unique type of Kumquat fruit.
Please share your opinion of it with other travelers. Write a review!